Zahálka is a new neighborhood created in Prague 4. Seven stylish apartment houses will be built in several phases beside the Vltava River and the Hodkovičky golf course. Beautiful parks with dozens of trees, playgrounds, meadows, a habitat corridor with a natural stream, well-maintained lawns and a garden will fill the areas between and around the houses. Three international architectural studios and a landscape designer are working together to create something more than a high-end modern housing complex. They're creating a home for living a full life.

Focus on beauty
The natural beauty of the riverbank, the carefully landscaped golf course, and older residential areas in Hodkovičky and Modřany all make Zahálka a rare treat for the eye and heart. That's why the architects have designed the new apartments with windows as large as possible and a terrace to take in the view from every apartment – from studio up to five-room apartments. Careful thought has gone into designing the layout of the apartment houses and surrounding areas in order to make Zahálka the perfect spot for enjoying your privacy and also sharing a rich social life with your family and neighbors. That's what timeless, unpretentious luxury means to us.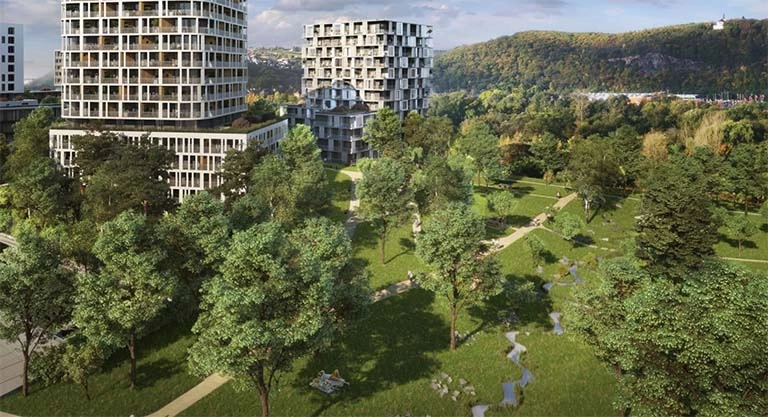 Get out and meet people
This is the place where you'll want to get to know the neighbors. We've dedicated the same amount of thought to shared spaces and outside areas as we have to the architecture itself. At Zahálka you'll find playgrounds for children, dog parks, an amphitheatre, and even a community garden with an insect house. Zahálka is perfect for people who don't want to be dependent on going everywhere by car and prefer other, more flexible ways of getting around town. The Prague city center is a scenic 15-minute bike ride away along the banks of the Vltava River. Trams run every five minutes. Of course, major roads are within easy access as well for when you want to travel by car.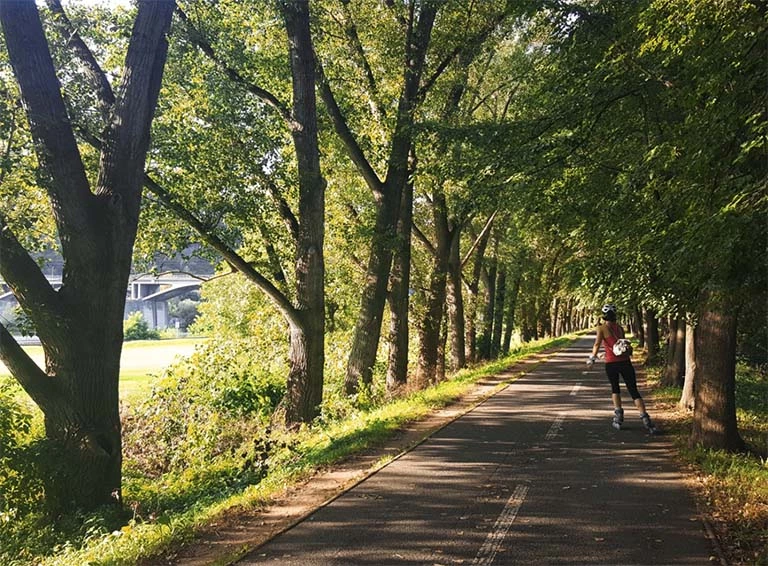 I want to get moving
There's nothing better than that pleasant tired feeling after a good day of exercise. Why not stretch your tired muscles after skating or cycling for miles on the popular cycling path cutting across Modřany and Hodkovičky from Prague's Náplavka down to Zbraslav? Relax after a good game of golf or frisbee with your friends? Head out to the Modřany Ravine (Modřanská rokle) to clear your head? Or work on the community garden? Walk through the park and read the signs about all the species of trees and other plants growing there? Take the kids out to wade in the Zátišský creek? Fly a kite, take it easy, run through the trees playing cops and robbers, head out in the snow and sled down the hill right outside your window? Run, ride a bike, breathe in the fresh air?